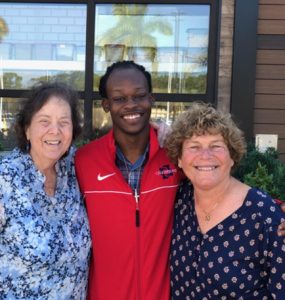 Forever a Champion
In Memory of Lynn Laurenti (1941-2020)
If we are fortunate, a part of our journey is shared with someone who is truly life changing. For so many in Champions Empowering Champions, Lynn Laurenti was that special life changing force. In her quiet and unassuming way, she made all the Champions she featured in the Chronicle of Champions feel special by bringing their stories to life.
After more than five decades of breaking glass ceilings and amassing a portfolio of extraordinary accomplishments, Lynn certainly deserved to enjoy her retirement with her beloved family and friends. Yet, she selflessly poured her tremendous heart and impeccable talents into bringing awareness to Champions. She was instrumental in developing the first Chronicle of Champions and bringing out the best in our all-volunteer editorial staff. Each quarter, Lynn rallied the troops and created stories to highlight our students, volunteers, donors, and activities.
Sadly, the September 2020 edition of the Chronicle of Champions was the last edition published under Lynn's supervision. In December, Kim Dunn, Executive Director of Champions, received a message from Lynn. The message, still saved on Kim's phone, simply said that Lynn was in the hospital, very weak, and that she was sorry she couldn't help with the newsletter anymore. Kim never imagined that this message would be the last time she heard Lynn's voice. The voice of someone who had become a role model, mentor, and friend.
Kim met with Lynn's daughter, Suzanna Laurenti, to present her with a resolution to honor her adored mother. As part of the resolution, Champions will host the Lynn Laurenti Memorial Squad Night each December to honor Lynn and all that she contributed to Champions. Suzanna, with tears in her eyes and a quiver in her voice, responded, "My mother would love this."
January of 2021, which was scheduled to be the next publication date for Chronicle of Champions, came and went. The newsletter team could not imagine preparing an edition without their talented leader. It took a few more months for the team to meet and honor Lynn's memory by finding a way to continue the work that she so loved. They quickly acknowledged that there was no way for a single person or small team to measure up to the standards Lynn had set for us and to fill that void. Therefore, a new idea was born that will bring countless Champions together to continue the work of one extraordinary woman.
Future editions of the Chronicle of Champions will feature a single story with students and volunteers contributing. In Lynn's honor, we are committed to bringing the stories of our Champions to you. Stay tuned for biweekly stories featuring our students, alumni, volunteers, donors, partners, and board members. Together we will continue Lynn's work at Champions, but her leadership, guidance and kindness will forever be missed.