Our first three Squad Nights were tremendously successful!
The official kickoff of Champions Empowering Champions took place on Sept. 25 on Inaugural Squad Night. Eighteen students and 20 volunteers came together to enjoy an evening that included team-building and networking activities, dinner, conversations and even a fierce rock-paper-scissors competition. The night started with an emotional personal speech by Champions' Executive Director Kimberly Dunn, who showed us that vulnerability can break barriers and ignite the development of deep connections through open communication in a safe setting.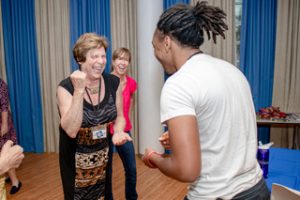 Champions Empowering Champions' mission is to empower college students who have experienced foster care or homelessness to achieve lifelong success.  The organization's goals are for these students to 1) Earn a college degree in four years; 2) Develop skills required for academic, professional and life success; 3) Build a lifelong support network and 4) Begin a successful career.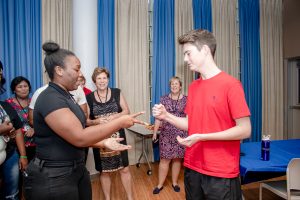 The powerful, touching mantra "Think like a champion, talk like a champion, feel like a champion" was introduced, putting smiles on people's faces. Participants enjoyed connecting with their squads and getting a feel for all the program offers.
The second Squad Night took place on Oct. 23 with a build-your-own-taco dinner. The evening was once again filled with fun team-building and networking activities. This time, it was evident that students and volunteers felt much more comfortable with one another. The turnout was even larger than on inaugural night, with 21 students and 22 volunteers attending.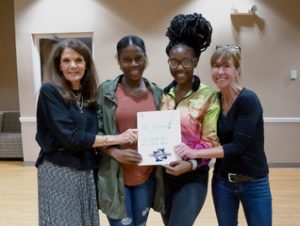 The group learned that the Champions board chair, Jeff Gordon, is also a rock star in a local band. Before the evening ended, another fierce competition took place. The winner of the first Squad Night's rock, paper and scissors competition repeated his victory as he tied for first place in the "Yank Me" competition, which required contestants to strategically remove an index card placed between plastic cups with the cups securely and neatly stacked after the card has been removed. Congratulations to the winners, Connor and Isaac! To close the evening, everyone gathered around to say the powerful mantra once again.
The third Squad Night was on Nov. 20. In the spirit of the holidays, volunteers cooked a homemade Thanksgiving-inspired dinner for the students. By this time, the atmosphere had become one of easy geniality, with everyone feeling they knew one another and were getting together to see old friends. Volunteers and students mingled across tables, going beyond the boundaries of their own squads. This time, the after-dinner game did not involve competition. Instead, participants drew papers from a cup to answer questions about the people, places and things they were grateful for. This game was a catalyst for deeper conversations, sparking meaningful dialog about how it is not happiness that brings gratitude, but rather gratitude that brings happiness.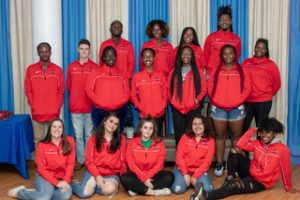 The evening's featured speaker was Dr. Roopa Crawford, a member of the Champions board with an amazing story to tell. Roopa left the comfort of her family and friends in Trinidad to come to the United States in pursuit of education and a better life. Her journey to success did not come easily, but she believed that with hard work, a solid goal in mind and perseverance anything was possible. Roopa overcame substantial obstacles, including holding down multiple jobs while simultaneously going to school. She earned a bachelor's degree in psychology from the University of Central Florida as well as master's and doctoral degrees from the Forest Institute of Professional Psychology. Today Roopa is a clinical psychologist based in Boynton Beach and owner of the RPC Consulting Group.
As if these accomplishments were not enough, she is also the mom of two little girls. She adopted one of them after fostering her and is still fostering the other child. Roopa has achieved her dream of creating a life for herself that allows her to devote time to her family and community causes she feels passionate about such as Champions Empowering Champions.
There will not be a Squad Night in December, but volunteers and students are encouraged to continue reaching out to one another and nurturing their relationships through the holidays. Everyone will come together again in January. Happy new year!